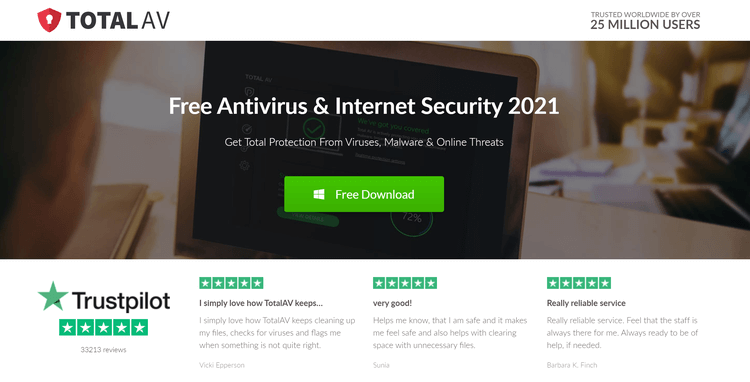 Compatibility
Reliability and Security
Total AV malware detection is one of the strongest parts of the product. They utilize SAVAPI anti-malware engine which is powered by a combination of artificial intelligence, cloud technologies, and endpoint antivirus scanning, to protect your private data against all types of viruses and malware including ransomware, Trojans, and spyware. TotalAV scored a perfect 100% malware detection with VirusBulletin for February 2020, giving them with a VB100 award. Total AV have built in phishing url blocking to stop fake websites tricking you. They also have a password vault, vpn, ID protection all giving you top level of security. The full system and real time scans will work silently in the background, constantly and consistently checking on potential threats and the overall health of your PC. Results are displayed in a clear and concise format making it easy to understand what issues your computer has and an option to instantly fix the issues discovered.

Removes Malware
Detects and removes malicous software on your computer like viruses, adware or spyware.

Removes Spyware
Spyware secretly monitors what you do on your computer. Its aim is usually to capture passwords, banking credentials and credit card details.

Web Protection
Detect which websites are safe and can be trusted. Block malware websites and downloads.

Block Phishing Websites
Block 'spoof' websites designed to steal your personal information, normally after clicking a fake email.

Real-Time Protection
Real-Time protection runs in the background and monitors your system continuously, blocking malware before it gets on your hard-drive.

Removes Adware
Adware is malicous software that automatically displays or downloads advertising material such as banners or pop-ups.

VPN Internet Security
Browse anonymously and securly online. Encrypt your connection to the Internet to block hackers from intercepting your data.

Scheduled Scans
Set your own scheduled for system antivirus scans including what locations to scan.

Password Manager
Easily manage and keep all your passwords secure in one place.
Features
As we have mentioned the slick and fast virus scan is one of the best we have tested, there are added features like file manager, enhanced firewall and system booster. As well as the exceptional protection from malware on your desktop or laptop, Totalav.com offer protection for your iOS and Android devices too. You can clear up wasted memory taken up by duplicate and burst photos. On Android, your options are far more open with the ability to protect from mobile malware (which is surprisingly more common than expected). TotalAV are a feature packed offering that really does tick all of the boxes!!

Firewall
Remote managment of Windows firewall or built-in advanced firewall tools.

Identity Protection
Identity protection from Experian intergrated to protect your idenity on and offline.

Browser Manager
Easily allows users to clear history, cache and tracking cookies from their web browsers.

Tune-Up
Includes tools which will help with the speed and optimization of your computer.

Phone Support
24/7 phone support for billing and technical questions.

Live Chat Support
Customer service includes live chat for a quick respsonse to any issues.

VirusBulletin VB100 Award
VirusBulletin VB100 Award
Value For Money
TotalAV are a top class antivirus software, and the best part if they are free. Once installed Total AV will scan your computer for all types of threats and report back the results in an easy to understand format. The scan will also access your system for ways it can increase its performance by giving you a complete system tune-up option. You can them remove any threats found for free. TotalAV offer a premium upgrade giving you a higher level of protection and security which you can upgrade for just $19. We recommended trying TotalAV for yourself as will scan your computer and remove any threats for free.
Support and Customer Service
The Total AV customer service is what takes the product from very good to great, with multiple contact options and wonderfully easy access to information. If you don't like to wait around for a reply to an email, you can start a chat with a Total AV expert who will be able to answer and resolve any query, from technical issues to billing problems. Having such easy access to support is very important in 2021, as even if products are becoming more simple and easy to use, the technology to support chat is readily available and it's effectiveness is undeniable. It's worth opting for a product which has chat support, even if it's slightly more per month; luckily, Total AV include it at no extra cost! You can choose upgrade your support experience with Priority Support if you feel like you need it, it means your tickets go right to the front of the queue.