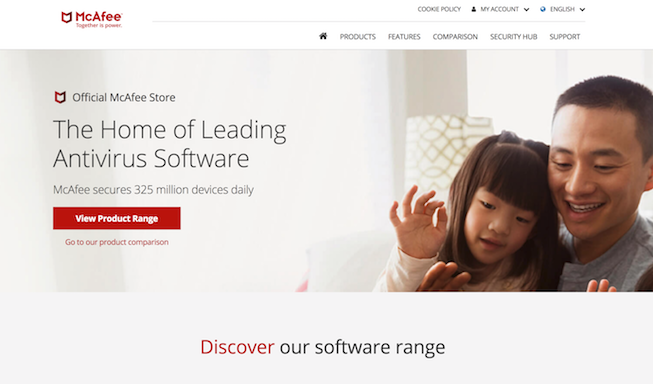 McAfee Compatibility
McAfee Reliability and Security
As mentioned in the features section, Mcafee antivirus software is generally very reliable and, in the most recent test, above industry standard. According to usage tests, it's the same story for the product's usability… With no false detection's of legitimate software as malware, McAfee antivirus is miles ahead of the industry average (5, out of a possible 1,328,235). This makes for a great user experience and a refreshing lack of mistaken flagging up of harmless software which is all too common in antivirus products. The user interface of the product is very simple and easy to navigate, unlike other antivirus software with good feature sets.

Removes Malware
Detects and removes malicous software on your computer like viruses, adware or spyware.

Removes Spyware
Spyware secretly monitors what you do on your computer. Its aim is usually to capture passwords, banking credentials and credit card details.

Web Protection
Detect which websites are safe and can be trusted. Block malware websites and downloads.

Real-Time Protection
Real-Time protection runs in the background and monitors your system continuously, blocking malware before it gets on your hard-drive.

Removes Adware
Adware is malicous software that automatically displays or downloads advertising material such as banners or pop-ups.

Scheduled Scans
Set your own scheduled for system antivirus scans including what locations to scan.

Firewall
Remote managment of Windows firewall or built-in advanced firewall tools.

Tune-Up
Includes tools which will help with the speed and optimization of your computer.

Phone Support
24/7 phone support for billing and technical questions.
McAfee Features
Mcafee is filled with great features, from safely storing passwords to permanent deletion of sensitive files. The product feels and acts like McAfee haven't skipped corners on features protecting the user from online threats, they even go as far as building in a feature which prevents you from spreading malware and SPAM. In terms of the basic functionality, McAfee antivirus products continue to score well with comparative organizations. In a recent test from AV­TEST (a respected organization in the antivirus market), the latest McAfee product picked up 98.1% of new malware samples and 99.9% of the existing malware samples. (Industry average of 97% and 99% respectively)

Tune-Up
Includes tools which will help with the speed and optimization of your computer.

Phone Support
24/7 phone support for billing and technical questions.

Live Chat Support
Customer service includes live chat for a quick respsonse to any issues.
McAfee Support and Customer Service
If you need support it is relatively easy to get, you can choose between chat support, email support and phone support, all available around the clock. During a period of high volume, we only had to wait 2 minutes to connect with a representative at McAfee via chat support, so we can vouch for their availability. Their support avenues aren't just good for helping with the product, they are also a great way to brush up on your linguistics as they offer phone support in 10 different countries and 5 different languages, as well as chat support in over 20 languages.