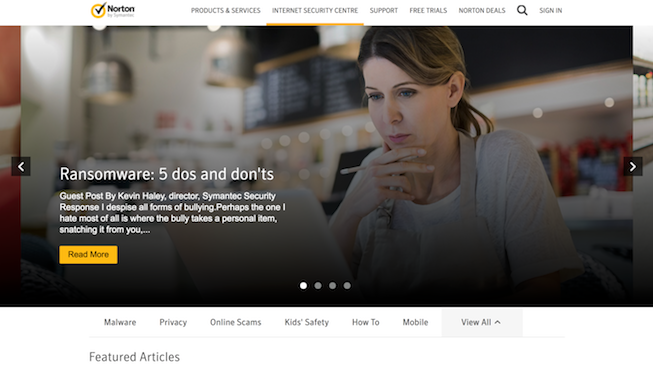 Compatibility
Reliability and Security
Given Norton's experience in the antivirus / PC security arena, you should expect a quality malware removal tool with little-to-no hitches in performance. (A slip from such important software can mean the end of your PC) Unfortunately, expectations don't necessarily match up to reality with Norton's antivirus product. In antivirus tests, Norton's antivirus all to often picks up completely docile software as dangerous. In a usage case, this means that the software may flag up your pre-existing, completely safe software as a threat to your safety, rendering the otherwise harmless software unusable. (If you follow the software's advice and quarantine it)

Removes Malware
Detects and removes malicous software on your computer like viruses, adware or spyware.

Removes Spyware
Spyware secretly monitors what you do on your computer. Its aim is usually to capture passwords, banking credentials and credit card details.

Web Protection
Detect which websites are safe and can be trusted. Block malware websites and downloads.

Block Phishing Websites
Block 'spoof' websites designed to steal your personal information, normally after clicking a fake email.

Real-Time Protection
Real-Time protection runs in the background and monitors your system continuously, blocking malware before it gets on your hard-drive.

Removes Adware
Adware is malicous software that automatically displays or downloads advertising material such as banners or pop-ups.

VPN Internet Security
Browse anonymously and securly online. Encrypt your connection to the Internet to block hackers from intercepting your data.

Scheduled Scans
Set your own scheduled for system antivirus scans including what locations to scan.
Features
At $49.99, you don't get many features beyond protection from 'viruses, spyware, malware and other online threats'. Your online transaction are identity are safeguarded and you can manage all of your devices and their antivirus software from a web portal. For an extra $10 per year, on Norton Security 'Premium', you get all aforementioned features as well as family safety tools, 25GB of cloud storage and automatic file backups. These are some great features as they build on the idea of protecting your computer and it's users from online dangers. For example, cloud storage and automatic backup can safeguard your files from physical loss or attack. (if you lost your laptop, your files would still be available in the cloud)

Firewall
Remote managment of Windows firewall or built-in advanced firewall tools.

Identity Protection
Identity protection from Experian intergrated to protect your idenity on and offline.

Phone Support
24/7 phone support for billing and technical questions.

Live Chat Support
Customer service includes live chat for a quick respsonse to any issues.
Value For Money
At $49.99 per year for 5 devices, Norton's main antivirus product is reasonably priced to say the least. While most people will not need the 5 licenses, but it is useful to be able to protect your phone (Android or iOS) as well as your main computer. Do be warned, you will find at the end of the first term that you are billed almost double what you initially paid, at $80. (Norton says the renew cost is 'Subject to change', which basically means they can set it to any price they like before renewing you. This gives us the impression that Norton are going to charge much more than the initial rate of $49.99 when it comes to the end of the first year!) For your cash, Norton offers a 100% guarantee to help keep your device(s) virus­free, or they will offer you a refund. Interestingly, the guarantee isn't to keep your device virus­free, but to simply 'help' keep it virus­free. We found Norton to be fair value for money, as the feature set supported the cheap price.
Support and Customer Service
Norton are often shamed for their customer support, with many reported cases of Norton 'security experts' telling users their computers are infected and need to be fixed. Of course, there never was an infection and the security experts charge the user a fee for it to be 'fixed'. We never felt so much as 'conned' by Norton support, but there we certainly weren't impressed by it. Getting to a point where you can speak to a human at Norton for help isn't as easy as it should be, your best bet is searching Google for the 'Contact Us' page. When you do reach it, you are offered 'Live Chat' support, which is a great way of offering and receiving support in the antivirus market. As well as live chat, Norton offer support over the phone. Annoyingly however, you have to fill out a form to get a number to call. In situations whereby you require support, you are likely to already be disgruntled. If you then had to peruse their website just to find a way of contacting them, it would annoy you even more. Consider this when making your decision on Norton.