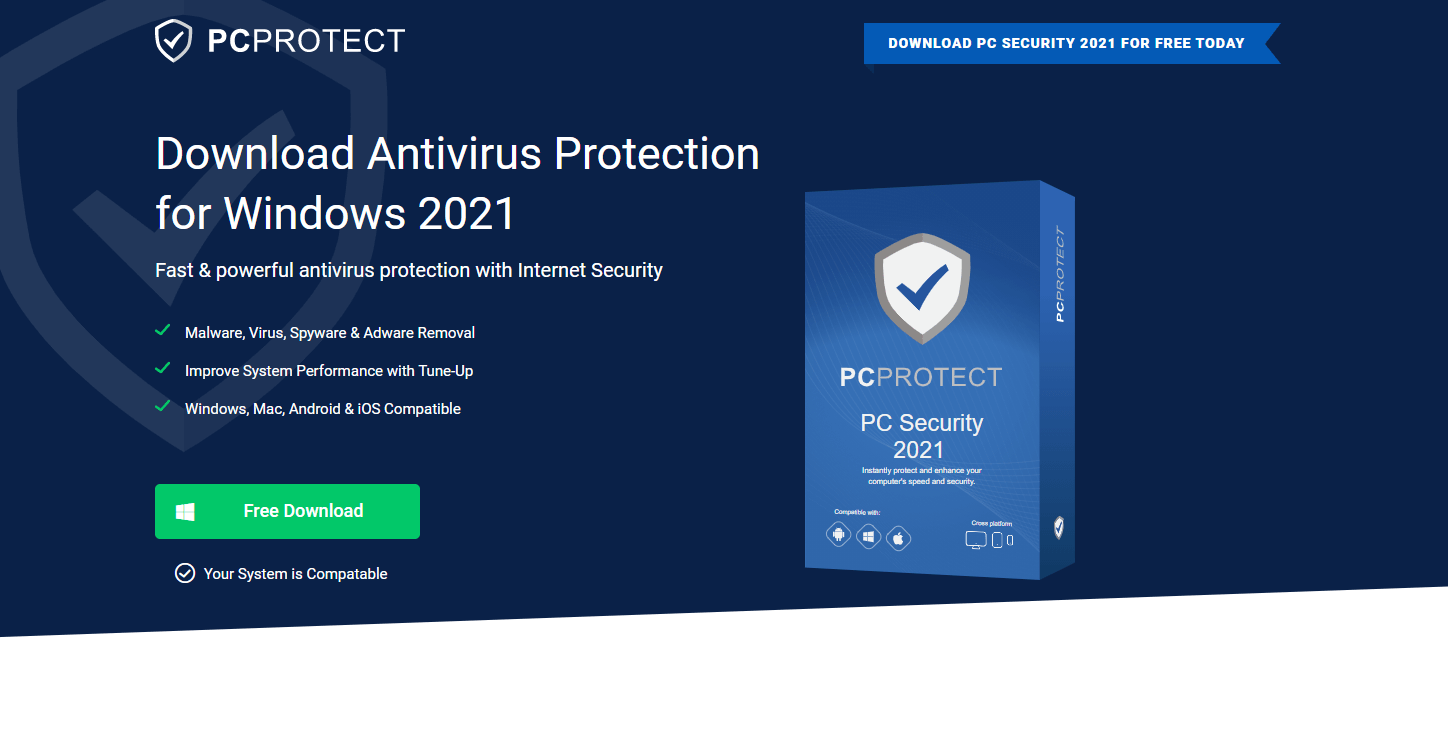 PC Protect Compatibility
PC Protect Reliability and Security
Installation to PC's, laptops and mobile devices is a breeze, you don't need any technical inclination to download and set up the software at all. The antivirus, for all intents and purposes, needs no input and runs itself. It's only when you want to customise the frequency of the scans or extra information is needed from you that you will have to input. An good example of when the scan will need extra information is if duplicate files are found, in that case, the software wouldn't just delete the duplicates found, but ask for your confirmation first. In terms of reliability, the software is brilliant. Technically, PCProtect.com employ industry leading malware protection software, making reliability one of their strongest points.

Removes Malware
Detects and removes malicous software on your computer like viruses, adware or spyware.

Removes Spyware
Spyware secretly monitors what you do on your computer. Its aim is usually to capture passwords, banking credentials and credit card details.

Web Protection
Detect which websites are safe and can be trusted. Block malware websites and downloads.

Block Phishing Websites
Block 'spoof' websites designed to steal your personal information, normally after clicking a fake email.

Real-Time Protection
Real-Time protection runs in the background and monitors your system continuously, blocking malware before it gets on your hard-drive.

Removes Adware
Adware is malicous software that automatically displays or downloads advertising material such as banners or pop-ups.

VPN Internet Security
Browse anonymously and securly online. Encrypt your connection to the Internet to block hackers from intercepting your data.

Scheduled Scans
Set your own scheduled for system antivirus scans including what locations to scan.
PC Protect Features
As well as offering an outstanding anti-malware solution, PCProtect go one step further by integrating multiple features into their software. Not only does PC Protect offer market leading Antivirus, they offer enhanced security features such as System Boost, Real-Time Security and Enhanced Firewall. The ability to protect iOS and android devices proved the most valuable part of the product on top of the malware protection. To top it off, you can even use a VPN on your phone as part of the app!

Password Manager
Easily manage and keep all your passwords secure in one place.

Firewall
Remote managment of Windows firewall or built-in advanced firewall tools.

Identity Protection
Identity protection from Experian intergrated to protect your idenity on and offline.

Browser Manager
Easily allows users to clear history, cache and tracking cookies from their web browsers.

Tune-Up
Includes tools which will help with the speed and optimization of your computer.

Phone Support
24/7 phone support for billing and technical questions.

Live Chat Support
Customer service includes live chat for a quick respsonse to any issues.

VirusBulletin VB100 Award
VirusBulletin VB100 Award
PC Protect Support and Customer Service
Support is normally the area where free antivirus fall behind the more expensive solutions, luckily this isn't the case with PC Protect. As part of the package, you have access to live chat support with experts from the company. This is on top of the in-depth guides supplied on how to install, uninstall and use the product. Their chat support is great, I was connected to an agent within seconds and, whilst I can't guarantee that every agent is extremely helpful, my experience with the company rep was brilliant. If you had any issue with the technical side of the product or with billing, you can be confident that the chat support is more than sufficient enough to resolve it.