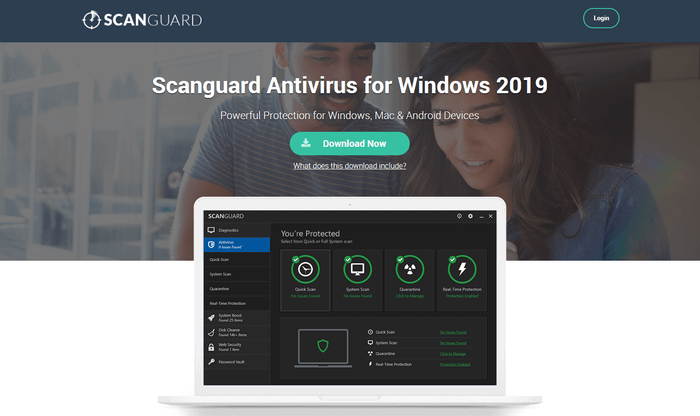 Compatibility
Reliability and Security
Lets bring focus back to the core function of the software - the antivirus. Whilst we don't have data from comparative organisations, we can certainly vouch for their reliability from our own usage. The product provides the same anti malware functionality (full system scans, background scans and real-time scans) as the most highly regarded companies in the industry, so we have no reservations in testifying their efficiency in protecting your device from threats. The program is perfect for those who are totally or even slightly not technical - installing the software is extremely easy and using it takes minimal effort.

Removes Malware
Detects and removes malicous software on your computer like viruses, adware or spyware.

Removes Spyware
Spyware secretly monitors what you do on your computer. Its aim is usually to capture passwords, banking credentials and credit card details.

Web Protection
Detect which websites are safe and can be trusted. Block malware websites and downloads.

Block Phishing Websites
Block 'spoof' websites designed to steal your personal information, normally after clicking a fake email.

Real-Time Protection
Real-Time protection runs in the background and monitors your system continuously, blocking malware before it gets on your hard-drive.

Removes Adware
Adware is malicous software that automatically displays or downloads advertising material such as banners or pop-ups.

VPN Internet Security
Browse anonymously and securly online. Encrypt your connection to the Internet to block hackers from intercepting your data.

Scheduled Scans
Set your own scheduled for system antivirus scans including what locations to scan.
Features
ScanGuard can protect and enhance a number of devices very well. It's hard to brand their antivirus as such because protection from malware is just one part of the software. In actuality, ScanGuard is a security suite and an enhancement program in one: features like File Protection and Startup Optimization take their software from a standard antivirus to a PC Protection market leader. The startup optimization is extremely impressive, despite sounding very simple. There are companies who exist solely to offer software which optimizes a PC's performance, so to have this included at no extra cost is something special.

Password Manager
Easily manage and keep all your passwords secure in one place.

Firewall
Remote managment of Windows firewall or built-in advanced firewall tools.

Identity Protection
Identity protection from Experian intergrated to protect your idenity on and offline.

Browser Manager
Easily allows users to clear history, cache and tracking cookies from their web browsers.

Tune-Up
Includes tools which will help with the speed and optimization of your computer.

Phone Support
24/7 phone support for billing and technical questions.

Live Chat Support
Customer service includes live chat for a quick respsonse to any issues.
Value For Money
The factor that puts Scanguard.com head and shoulders above the rest - their antivirus product's value is magnificent when compared to the other options in the industry at the same price point. To achieve the same level of protection without ScanGuard, you would very quickly run up a bill near the $150/year mark. Scanguard charges just $24.95 so a fraction of what you would pay for the same functionality. When choosing an antivirus product, value for money should be at the top of your priorities list. There are many companies to choose from and tens of products from each, value for money is the best way to sort the worthy options from the rest. In our opinion, ScanGuard.com comes out on top!
Support and Customer Service
ScanGuard haven't held back in any area, especially with support. If you have an issue, you can have it resolved in seconds by using their chat feature. The chat feature enters you into an instant messaging conversation with an engineer from the company. When we tested this feature it took only a few seconds to connect with someone from ScanGuard, which made the whole process extremely smooth. After all, when you hit a roadblock, the last thing you want to do is have to wait a few days to hear back via email! If you are more old school, you can email or phone their support team.