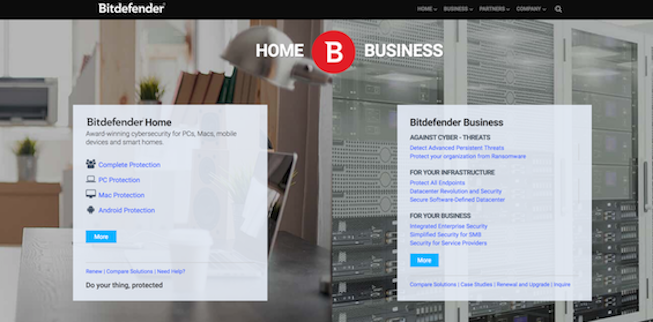 Bitdefender Compatibility
Bitdefender Reliability and Security
You can find many different examples of organizations and reports commending Bitdefender on their product's reliability and efficiency, supported further by their impressive collection of awards based on the software's ability to pick up malware and ignore harmless software. The reliability of the antivirus should be no concern at all when considering Bitdefender. It's also very easy to use. The user interface is very simple and easy to understand, within a few seconds you are aware of your current level of protection and what is turned on / off in terms of features. Also, you can start a scan immediately. The only potential level of confusion is the 3 different types of scan, but a little product research can dissipate this.

Removes Malware
Detects and removes malicous software on your computer like viruses, adware or spyware.

Removes Spyware
Spyware secretly monitors what you do on your computer. Its aim is usually to capture passwords, banking credentials and credit card details.

Web Protection
Detect which websites are safe and can be trusted. Block malware websites and downloads.

Block Phishing Websites
Block 'spoof' websites designed to steal your personal information, normally after clicking a fake email.

Real-Time Protection
Real-Time protection runs in the background and monitors your system continuously, blocking malware before it gets on your hard-drive.

Removes Adware
Adware is malicous software that automatically displays or downloads advertising material such as banners or pop-ups.

VPN Internet Security
Browse anonymously and securly online. Encrypt your connection to the Internet to block hackers from intercepting your data.

Scheduled Scans
Set your own scheduled for system antivirus scans including what locations to scan.
Bitdefender Features
Bitdefender's antivirus software is packed full of useful features, from Social Network Protection to Sensitive Anti­fraud tools. The most interesting feature is called 'Rescue Mode' ­ it makes a lot of sense to have in an antivirus and, surprisingly, we've not seen it on any other product of it's kind. The premise is simple: in the occasion your antivirus is infected with a Rootkit (a type of malware which cannot necessarily be removed from within the Windows operating system), the computer is automatically rebooted and safeguarded. Rootkits are some of the most dangerous pieces of malware and they are devilishly hard to conquer from an Antivirus point of view. Bitdefender have nailed it by including 'Rescue Mode' on their software. Another smart tool is the 'Bank Online Without Worries' feature, which pre­fills credit card information forms online to help protect you from hackers intercepting this info via snooping or key­logging.

Firewall
Remote managment of Windows firewall or built-in advanced firewall tools.

Phone Support
24/7 phone support for billing and technical questions.

Live Chat Support
Customer service includes live chat for a quick respsonse to any issues.
Bitdefender Support and Customer Service
Bitdefender have some great support avenues you can use if you are stuck. They are easy to access and offer quality support, whether you choose email, community support, chat or phone. Unfortunately, it wasn't all plain sailing with Bitdefender's support. When we tried to use the chat support there weren't any agents available, it was suggested that we email instead! In the case that a vital piece of software to you has been flagged as malware, you would need an answer quicker than 2 days time. We tried to reach Bitdefender's chat support 4 times over a 20 minute period, we were unsuccessful every time! It would be naive to assume that this is representative of their chat support all the time, but it certainly doesn't leave us with much confidence in their ability to help customers.