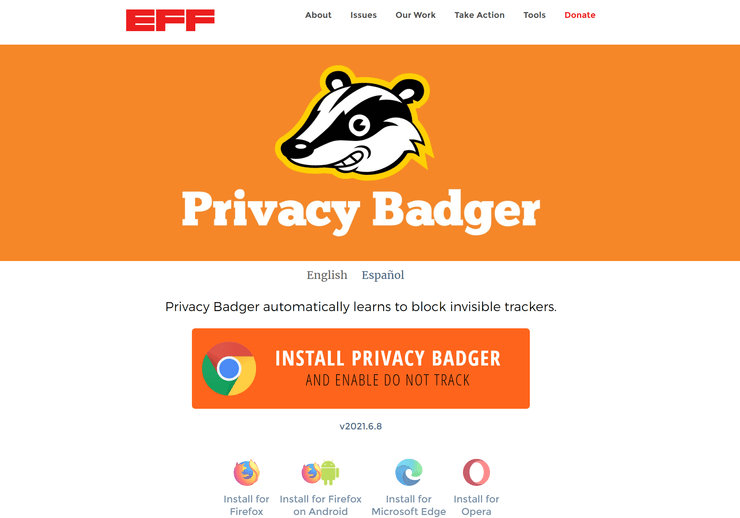 Privacy Badger Compatibility
Privacy Badger Reliability and Security
The EFF, which dropped anchor way back in 1990, was established to champion user privacy. As previously mentioned, Privacy Badger goes about its business based on a tracker's behaviour as opposed to automatic blocking. Whether this is advantageous or not is down to the user – but it does at least make the extension distinctive. Technically, Privacy Badger does automatically perform blocks, but there's a methodical filter process; a domain only becomes red-carded once it has tracked you on at least three different websites. While some users may be totally fine with this 'get-to-know-you-first' approach to tracking, it may lead others to look elsewhere.

Removes Spyware
Spyware secretly monitors what you do on your computer. Its aim is usually to capture passwords, banking credentials and credit card details.
Privacy Badger Features
Compatibility Edge, Chrome, Firefox, Opera; Windows, Linux, Android Privacy Badger keeps things simple and virtually seamless. After a quick-fire installation, users are provided with a clean interface that displays uncomplicated tracker status, along with some configuration and toggle controls. Privacy Badger isn't feature-heavy, but it does have a handy Incognito/Private Browsing mode for entirely anonymous surfing. There's also an import/export tool that allows you to transfer Privacy Badger's current tracker knowledge into a different browser; so, if you've been using Firefox and don't want Badger to have to re-learn everything in Chrome, you'll save oodles of time. Lastly, while Privacy Badger caters to most browsers, it unfortunately doesn't extend itself to Apple-based varieties like Safari at present.
Privacy Badger Support and Customer Service
Despite Privacy Badger being a welcome addition to the online privacy market – like uBlock Origin, another free, open-source project – great customer service was never going to be among its features. Support is extremely limited here; the Privacy Badger website has a FAQ section, and, should you wish to report a bug or another matter, the EFF website has a contact email address for any issues concerning its products. Once again, the EFF is a non-profit organization, so this is about as much as can be reasonably expected for its ad-blocker. If you're after a more comprehensive support package, you can check out some of our other market-leading, ranked providers.