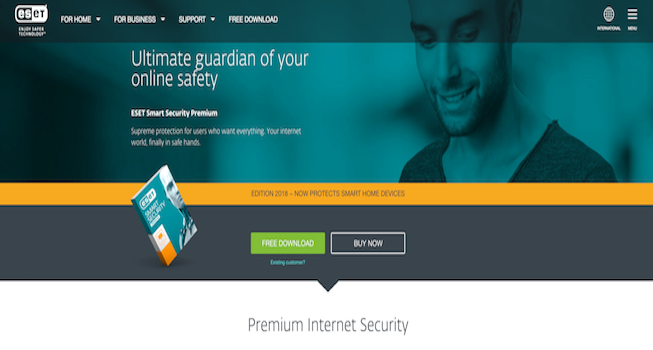 Compatibility
Reliability and Security
One measure ESET excels in their Reliability, NOD32 is one of the strongest antivirus products on the market thanks to the heuristic algorithms it employs. Heuristic algorithms (in this case) are the algorithms used by antivirus products to spot malware which they have not seen an example of before. Spotting an antivirus which the company has seen before is easy, ESET are considered the best in the industry for spotting malware no one has seen before. The product itself is very easy to use thanks to it's simple UI. You can tell very easily if you are fully protected (or at least as protected as ESET can make you), how to do a scan and how to get help.

Removes Spyware
Spyware secretly monitors what you do on your computer. Its aim is usually to capture passwords, banking credentials and credit card details.

Web Protection
Detect which websites are safe and can be trusted. Block malware websites and downloads.

Block Phishing Websites
Block 'spoof' websites designed to steal your personal information, normally after clicking a fake email.

Scheduled Scans
Set your own scheduled for system antivirus scans including what locations to scan.
Features
The feature set you have access to with ESET NOD32, their flagship antivirus product, is not anything to write home about. One of their top features is the ability to disable notification if you are watching a movie or playing a game! While this feature is welcomed, the fact that it is one of their top features speaks volumes about the extent of the software's ability. One nice feature NOD32 has is the anti­phishing capabilities, which 'prevent[s] attempts to acquire sensitive information such as usernames, passwords or banking and credit card details by fake websites'. This should be a feature of every PC protection product as it is such a widespread issue. It was great to see ESET work this into their software, working somewhat to redeem them for the otherwise lacklustre capabilities.

Phone Support
24/7 phone support for billing and technical questions.

Live Chat Support
Customer service includes live chat for a quick respsonse to any issues.

VB100
VirusBulletin VB100 Award
Value For Money
ESET NOD32 starts at $39.99, which gives you a year's worth of protection on 1 PC, which is on the low to mid range in terms of pricing in the industry. For your money, you get a very well respected antivirus product with very high customer satisfaction ratings thanks to it's simplicity and proficiency in protecting your computer from antivirus. The feature set isn't very impressive, but it seems to do the basics very well (which is to some people's favour), with 'fast detection and low false positives'. The $40 covers a disappointing number of types of digital protection, especially when you consider the near complete protection you can get from other companies at similar price points.
Support and Customer Service
In section, ideally we'd go through how ESET make up for poor features through their brilliant support, but that's not the case this time. If you have any trouble with the product, beyond Installation and Activation, it can be very hard to find a needle of help in the haystack that is their 'knowledge base'. To get help from humans on these issues, you need to fill out a mammoth of a form to just enquire. For US customers, you can make use of a live chat with 'ESET customer care agents', but these are only available for use up until 7pm and not on weekends.