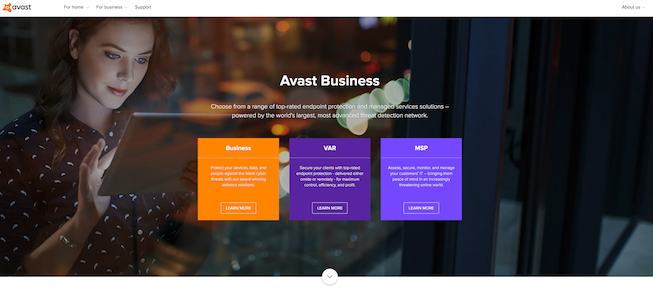 Avast Compatibility
Avast Reliability and Security
Avast! has stacks of awards and certifications under its belt, so surely this must say a lot about the quality of the product? Well yes, in a way. Critic reviews and awards aren't handed out like free cheese at a supermarket, a lot of testing is involved. Awards don't say it all though, software is updated daily so awards can quickly become irrelevant, so we performed our own testing. To be fair, the software is smooth, quick and looks beautiful.

Removes Malware
Detects and removes malicous software on your computer like viruses, adware or spyware.

Removes Spyware
Spyware secretly monitors what you do on your computer. Its aim is usually to capture passwords, banking credentials and credit card details.

Web Protection
Detect which websites are safe and can be trusted. Block malware websites and downloads.

Block Phishing Websites
Block 'spoof' websites designed to steal your personal information, normally after clicking a fake email.

Real-Time Protection
Real-Time protection runs in the background and monitors your system continuously, blocking malware before it gets on your hard-drive.

Removes Adware
Adware is malicous software that automatically displays or downloads advertising material such as banners or pop-ups.

VPN Internet Security
Browse anonymously and securly online. Encrypt your connection to the Internet to block hackers from intercepting your data.

Scheduled Scans
Set your own scheduled for system antivirus scans including what locations to scan.
Avast Features
Avast!'s Pro Antivirus is packed full of useful tools, from the obvious Intelligent Antivirus to a Password manager and a Browser Cleaner. There is however one feature that stands out to us, Sandbox! This is an awesome feature which allows you to test any file(s) before actually running it, whether that file comes from a download server from the internet, torrent file or even a friends USB drive. This is the ultimate tool for safety and think this could be the start of something new, it's certainly innovative and works very well.

Firewall
Remote managment of Windows firewall or built-in advanced firewall tools.

Browser Manager
Easily allows users to clear history, cache and tracking cookies from their web browsers.

Tune-Up
Includes tools which will help with the speed and optimization of your computer.

Phone Support
24/7 phone support for billing and technical questions.

Live Chat Support
Customer service includes live chat for a quick respsonse to any issues.

VirusBulletin VB100 Award
VirusBulletin VB100 Award
Avast Support and Customer Service
No live chat is a big negative with Avast!'s support but then again they do offer 24/7 phone support, so that almost makes up for lack of live chat. Their site is absolutely gorgeous and very easy to navigate around. We'd go as far to say that this is the nicest site out of the companies we've reviewed, with Scanguard in a close second. But what does a good site actually do? Trust us, when you're on a website trying to find support for over 10 minutes you'll appreciate a good looking and easy to navigate site. Big thumbs up for Avast here!