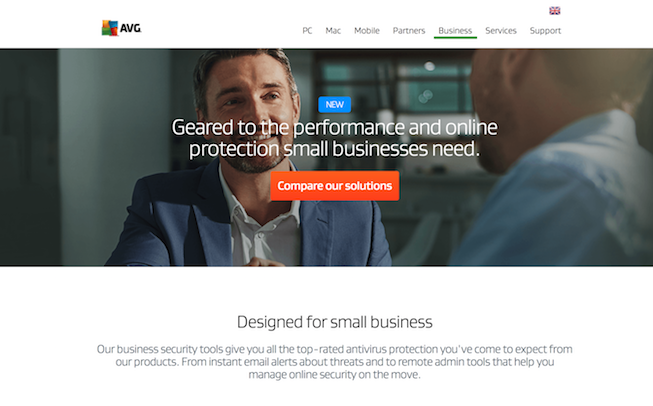 AVG Compatibility
AVG Reliability and Security
As AVG are such a well established product, you won't be surprised to hear that their software is extremely reliable, thorough and easy to use. You can read thousands of testimonials from users online explaining how easy the software is to navigate and manage, simply set up and regular scan then let it run and deal with the results. Utilising the extra features like LinkScanner and Family Safety is easy enough at a very basic level, but if you want to delve into advanced settings you can expect some hard core configuration. Although, the learning curve is wonderfully balanced out by helpful chat support.

Removes Malware
Detects and removes malicous software on your computer like viruses, adware or spyware.

Removes Spyware
Spyware secretly monitors what you do on your computer. Its aim is usually to capture passwords, banking credentials and credit card details.

Web Protection
Detect which websites are safe and can be trusted. Block malware websites and downloads.

Block Phishing Websites
Block 'spoof' websites designed to steal your personal information, normally after clicking a fake email.

Real-Time Protection
Real-Time protection runs in the background and monitors your system continuously, blocking malware before it gets on your hard-drive.

Removes Adware
Adware is malicous software that automatically displays or downloads advertising material such as banners or pop-ups.

VPN Internet Security
Browse anonymously and securly online. Encrypt your connection to the Internet to block hackers from intercepting your data.

Scheduled Scans
Set your own scheduled for system antivirus scans including what locations to scan.
AVG Features
Support is an area where AVG do not fall behind the competition in any way. As well as having awesome chat and phone support, AVG are keeping up with the times and offer their customers and potential customers support through Facebook and Twitter. To go even further, AVG also have a community of users accessible through their website. You can compose your own question and submit it to the community, or search through previous questions and answers. It really is a complete support system - at no point did we feel like we were being left to our own devices. (If you'll pardon the pun)

Firewall
Remote managment of Windows firewall or built-in advanced firewall tools.

Browser Manager
Easily allows users to clear history, cache and tracking cookies from their web browsers.

Tune-Up
Includes tools which will help with the speed and optimization of your computer.

Phone Support
24/7 phone support for billing and technical questions.

Live Chat Support
Customer service includes live chat for a quick respsonse to any issues.

VirusBulletin VB100 Award
VirusBulletin VB100 Award
AVG Support and Customer Service
Support is an area where AVG do not fall behind the competition in any way. As well as having awesome chat and phone support, AVG are keeping up with the times and offer their customers and potential customers support through Facebook and Twitter. To go even further, AVG also have a community of users accessible through their website. You can compose your own question and submit it to the community, or search through previous questions and answers. It really is a complete support system - at no point did we feel like we were being left to our own devices. (If you'll pardon the pun)