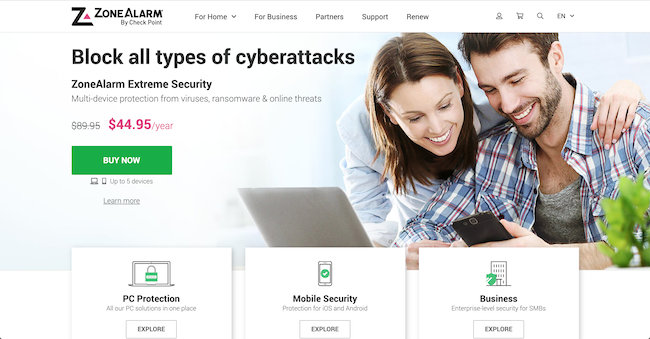 Compatibility
Reliability and Security
ZoneAlarm has offered quality antivirus solutions for years, shown by their consistent presence in the VB100 ranks. Since 2015, they have not taken part in comparative tests from governing antivirus bodies like Virus Bulletin and AV-TEST - does this mean they have fallen out of the runnings? Well, in their latest test (April 2015), they scored 6/6 in the 'Protection' category, beating McAfee, Avast and AVG by earning their perfect score. The software itself is outdated, but still serves as easy to use if you have any experience with using computer programs.
Features
Pro Firewall, one of the 2 products from ZoneAlarm coming in at $40, has hardly as many features as the other. For the same price (with Pro Antivirus+), you get free technical support via live chat, antivirus and anti­spyware, real time cloud security, identity protection and more. Included with both of the lower end solutions is 'Online Backup', a great feature which stores a copy of your personal files in the cloud, preventing their loss in the case your computer breaks or is stolen. Extreme security gives you parental controls, anti­keylogging measures and PC tune­up.
Value For Money
Pro Antivirus+ comes in at just under $40 per year, which is loaded with Antivirus and Firewall capabilities. Interestingly, Pro Firewall and Pro Antivirus+ are the same price, but Pro Antivirus+ comes with a Firewall installed, so it's a no brainer when it comes to choosing between the 2. Your other option is going for 'Extreme Security', which builds on the lower level products at a rate which is worth the extra cash many times over. For the extra $30, you get a number of additional features which extend the product's ability to protect you from online threats such as identity theft.
Support and Customer Service
The only section which really lets down ZoneAlarm - Support. Their technical support system is horrible outdated and clunky to use, opening countless amounts of tabs as you work through pages. The option to live chat with an expert is great, but finding this option is made far too hard. The link to open a chat is extremely small and hard to find, so if you were already frustrated due to a product failure you won't be in the mood for having to dig out a chat link. Alternatively, you can search ZoneAlarm's knowledge base, but all this does is take you on a journey through many tabs and pages until you finally reach your answer.