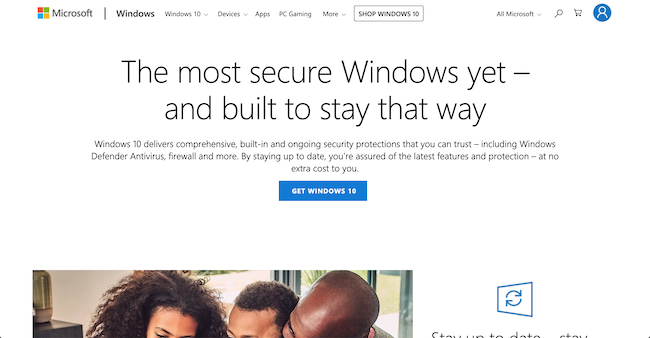 Compatibility
Reliability and Security
Free? No subscription? Does this mean poor performance? Not in every case, but unfortunately in Window Defender's case it does. It doesn't provide bad protection, providing you keep your computer up-to-date and avoid dangerous plug-ins as it only scored a disappointing 3.5/6 with AV-TEST. Howtogeek suggest running MalwareBytes alongside Windows Defender for boosted protection, both free and together will do a good job.
Features
Windows Defender offers nothing special when it comes to features. Standard real-time protection and a quarantine system is all you get, no additional features to help with the protection of your device. It's worrying that with nothing else to concentrate on that they still can't produce a product that performs very well. We suggest looking elsewhere.
Value For Money
Windows Defender is free and pre-installed on any Windows 10 device, so we can't really say it's bad value for money. The only thing we can say is that it does under-perform in most tests so we suggest purchasing another anti-virus package, which will effectively cost you some cash.
Support and Customer Service
Windows Defender is software developed by Microsoft and so support channels will run through them too. They do offer live chat and telephone support but you could experience long wait times. The great thing with Microsoft products is that they are used by such a massive community and so most issues are addressed via forums by online support agents.