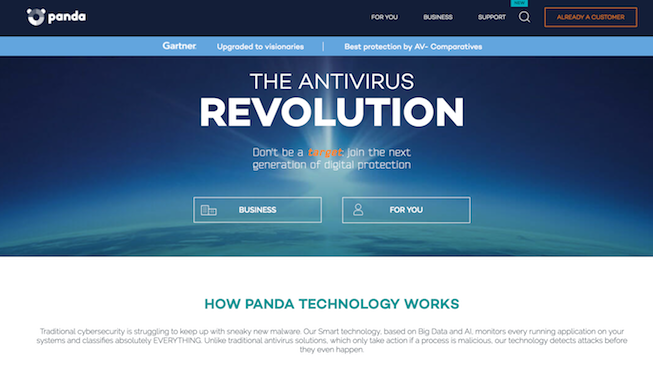 Compatibility
Reliability and Security
Panda antivirus software is widely remarked as a provider of great malware protection, but it is often said that it's effect on computing performance doesn't go unnoticed. As antivirus software is constantly running in the background, a common issue is that it takes up too much processing power, slowing the computer down. Unfortunately, this is the effect we found Panda to have during our test. In terms of ease of use, it's hard to fault Panda Antivirus - installation was a breeze and the product made sense from the get-go. The user interface is extremely friendly and it is very easy to know if you are protected or not, how many threats there are…

Removes Spyware
Spyware secretly monitors what you do on your computer. Its aim is usually to capture passwords, banking credentials and credit card details.

Web Protection
Detect which websites are safe and can be trusted. Block malware websites and downloads.

Block Phishing Websites
Block 'spoof' websites designed to steal your personal information, normally after clicking a fake email.

Real-Time Protection
Real-Time protection runs in the background and monitors your system continuously, blocking malware before it gets on your hard-drive.

Removes Adware
Adware is malicous software that automatically displays or downloads advertising material such as banners or pop-ups.

VPN Internet Security
Browse anonymously and securly online. Encrypt your connection to the Internet to block hackers from intercepting your data.
Features
Complete Protection, Panda's flagship antivirus product (which costs $53.89 / year or $5.99 / month if you pay monthly) has some great features, our favourite being the ability to shop and pay online safely. This is the feature which takes the product from simple antivirus to more of a total PC protection suite, protecting your online payments as well as protecting the computer from malware. This is an important factor you should look for when weighing up different antivirus products, as you will find, for no extra costs, some will protect many more aspects of your life online, including browsing, protecting your mobile (which Panda's Complete Protection offers) and so on.

Firewall
Remote managment of Windows firewall or built-in advanced firewall tools.

Phone Support
24/7 phone support for billing and technical questions.
Value For Money
Panda's top products have the option of starting a subscription with a free month of use, whichis a great way to start the service. Unfortunately, the free start is not necessarily a trial, if you don't remember to cancel the service (in the case you don't like it or find you don't need it) it will bill you for the full price and start up recurring charges at $53.89 per year. Their less premium products, Basic Protection and Advanced Protection, run at $30.79 / year and $38.49 / year respectively, which is on the very low end of the antivirus price scale. These very low priced products are extremely stripped back in terms of functionality, but are perfect for anyone searching for simple anti­malware solutions. Overall, Panda is good value for money, mostly thanks to the low pricing.
Support and Customer Service
The level and quality of support Panda offer depends on your subscription - if you have the most expensive subscription (Panda Gold Protection, at $76.99 / year) then you will have access to Premium Support. Standard support is simply Phone Support (only available on weekdays) and email support. Premium support, as expected, is much better: it allows you to use phone support on weekends (availability extended to 7am -> Midnight), gives you access to chat support (24/7) and remote support. Remote support is extremely impressive, allowing the support agent to access your computer and make fixes on your behalf. Panda also utilise social media to give support, which is a great addition to the lineup.