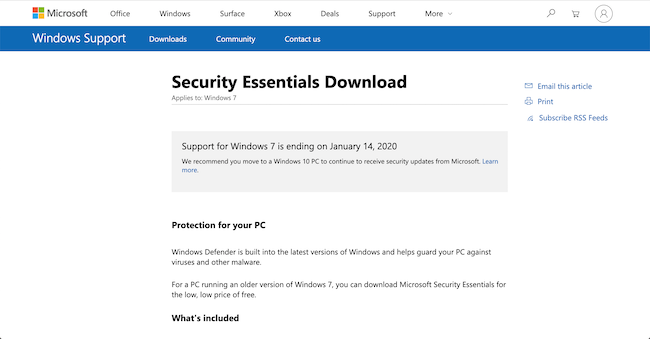 Compatibility
Reliability and Security
Security Essentials really hasn't had it easy when it comes to online publicity, in most cases it's been slated for it's poor performance and lack of features and so we'd thought we'd investigate this. To be fair it's only a very basic program that offers real-time scanning and a quarantine system but why should performance be reduced? We'd guess that because Microsoft are such a substantial corporation and not specifically an Antivirus developer that they don't have experience and knowledge on their side. If you're looking for a baseline product and feel you're pretty clued up on which websites to avoid then this free solution will work for you.
Features
SE is a very basic and only covers the absolute fundamentals of an anti-virus. We understand you get the obvious real-time scanning and a quarantine system but it's lacking features like browser and smartphone protection. With the increase in popularity of browser extensions protection has never been so paramount, that's not to mention mobile and tablet protection. If you're a very sensible user, only using Windows, keep your system up-to-date and don't want to spend your hard earned cash on an AV, Security Essentials could be the one for you.
Value For Money
If you're using Windows Vista or above, Security Essentials has probably been installed on your machine via a Windows update, for free. Yes for free. So we can't really put a value on it, what we do know however is that performance may not be up-to-scratch and even though it may be free, it probably shouldn't be your first choice AV.
Support and Customer Service
You'd probably assume that because Microsoft is such a broad company that finding the support for Security Essentials would be tough however they have just integrated a new 'Virtual Agent' which is effectively a virtual live chat. This will point you in the right direction and suggest articles to read. If you can't find a solution you can choose to talk to a person via phone, chat or by 'asking the community'. We managed to get to this stage in under 30 seconds. Very impressive!