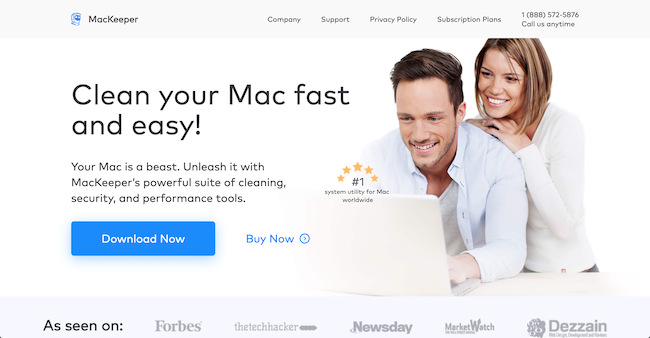 Compatibility
Reliability and Security
MacKeeper is very new to the market and there are virtually no reviews on the software so we thought we'd try it for ourselves. At first glance it looks really nice, the interface is smooth and the scan can be started almost immediately. However, once the scan is completed a Robot agent pop ups for 2.5 minutes telling you how your device can be cleaned. This is very spammy and annoying. If you manage to hold out for the 2 and a half minutes you'll finally get to a page where you can 'fix' your PC but no it's not that easy, you then have to sign up for a free account and the features are very limited unless you pay.
Features
Features vary per package but when you initially download MacKeeper you'll see a massive list of tools in the left navigation bar. Security – which consists of internet security and Anti-theft. Advanced tools - which consists of a memory cleaner, duplicate file finder, data encrypter and many more tools. There's a solid array of tools but do they actually do much? To us they seem a little gimmicky and who knows if they actually do anything?
Value For Money
As you could probably guess from the name Mackeeper the program only supports Apple's Mac so this review is pointless if you use a Windows PC, phone or tablet. The program was designed to clean, optimise and protect Mac devices. The software has only been around since 2010 but already has over 38 million downloads.
Support and Customer Service
The support section is hidden pretty darn well - it's in very small text in the footer of the site. This immediately rings alarm bells, they obviously don't want their customers to find this very easily at all. If you manage to find it then you'll be greeted with a 'remote support' page where a representative can login into your PC and attempt to resolve any issues. Other than this, there is no live chat, phone number or forums. You can email then though.