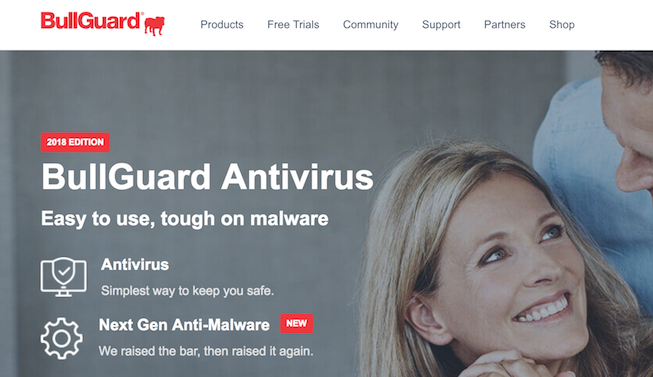 Compatibility
Reliability and Security
BullGuard offer quality antivirus solutions, so you can expect them to be reliable and easy to use. In a test from TopTenReviews they found that BullGuard picked up 100% of the malware on the PC and scored well in 'Ease of Scanning' too at 92%. In our tests we found the user interface to be simple and worked as expected. In addition, they have great reviews on TrustPilot, further supporting their case for strong customer service and ease of use. I would recommend BullGuard to anyone looking for a very stripped back and powerful antivirus with great support and is very easy to install and use.

Removes Malware
Detects and removes malicous software on your computer like viruses, adware or spyware.

Removes Spyware
Spyware secretly monitors what you do on your computer. Its aim is usually to capture passwords, banking credentials and credit card details.

Web Protection
Detect which websites are safe and can be trusted. Block malware websites and downloads.

Block Phishing Websites
Block 'spoof' websites designed to steal your personal information, normally after clicking a fake email.

Removes Adware
Adware is malicous software that automatically displays or downloads advertising material such as banners or pop-ups.

Scheduled Scans
Set your own scheduled for system antivirus scans including what locations to scan.
Features
As mentioned in the 'Value for Money' section, the feature set is relatively poor, unless you are looking for a pure anti­malware solution. In that case it does exactly what you need and does it well, but there are many other products that protect your PC in the same way just as well for the same price and with far more extra features. One feature included worth noting is the 'Powerful Parental Control', which is easy to setup and manage allowing you to keep on top of what your kids can access online. When breaking a rule you have set is attempted you get a notification and you can even put in place rules that stop your child entering your address or other personal details online. This is a great addition to the software.

Firewall
Remote managment of Windows firewall or built-in advanced firewall tools.

Live Chat Support
Customer service includes live chat for a quick respsonse to any issues.
Value For Money
Starting at $59.95 per year for their antivirus product 'Internet Security' (protection of 3 PCs), BullGuard commands a relatively low monthly rate at approximately $5 per month, but what do you get for your hard earned cash? Not a lot it seems... As expected, you get protection against all types of malware, automatic scans and a couple extras. The best bumper feature is most certainly the free 5GB online backup, which takes the level of protection on your files to another level. But you can get 1GB free with Dropbox, so it is no deal- breaker. One of their product's top features is free updates to new versions of the software, which goes some length to explaining how little value you get for your money in terms of feature set.
Support and Customer Service
In terms of support and customer service, you can't knock BullGuard. You can chat online with an antivirus expert any time (English support only) and in 6 different languages. What really impressed us was the speed of the support, we were served in just 1 minute at midday during the week (normally an extremely busy time for pc protecting software support teams). As well as their chat functionality, you can also email if you don't have the time to resolve the issue there and then, or if it is a more complicated query. If you prefer to search for answers yourself, or are interested in learning more about antivirus products, they have in depth FAQs and product guides which walk you through every aspect of setting up and managing BullGuard antivirus products. Unfortunately, there is no telephone support.