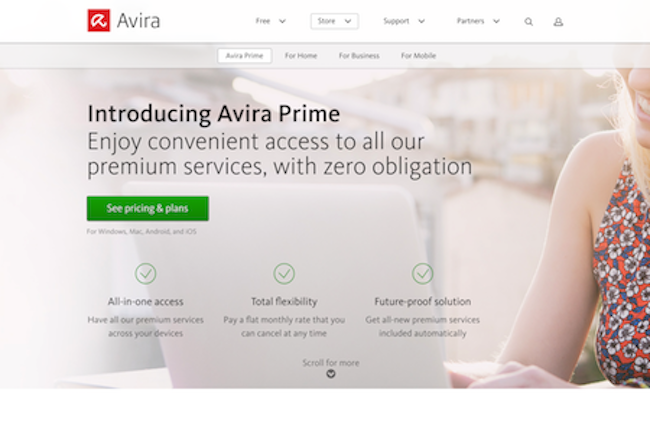 Compatibility
Reliability and Security
Avira antivirus is widely known as an extremely reliable and accurate antivirus products, frequently scoring 100% on malware detection tests set by comparative organisations in the antivirus arena. The user interface is extremely friendly, offering itself as a great solution for technophobes, however, it is possible that the user interface is so friendly due to the simplicity from having minimal features. We found Avira relatively easy to use, setting up and running scans was very simple. Dealing with the results was just as easy. Simply set the scans to run and 'your computer is secure' - which is exactly what you want from an antivirus.

Removes Malware
Detects and removes malicous software on your computer like viruses, adware or spyware.

Removes Spyware
Spyware secretly monitors what you do on your computer. Its aim is usually to capture passwords, banking credentials and credit card details.

Web Protection
Detect which websites are safe and can be trusted. Block malware websites and downloads.

Block Phishing Websites
Block 'spoof' websites designed to steal your personal information, normally after clicking a fake email.

Real-Time Protection
Real-Time protection runs in the background and monitors your system continuously, blocking malware before it gets on your hard-drive.

Removes Adware
Adware is malicous software that automatically displays or downloads advertising material such as banners or pop-ups.

VPN Internet Security
Browse anonymously and securly online. Encrypt your connection to the Internet to block hackers from intercepting your data.

Scheduled Scans
Set your own scheduled for system antivirus scans including what locations to scan.
Features
You would expect Avira's antivirus to be relatively strapped for features due to the price, this assumption is unfortunately supported by the product. There are a few very neat features like 'Game Mode' which disables all antivirus notifications whilst playing a game or watching a movie. Another smart feature is 'Browser Tracking Blocker', which 'quietly prevents companies from monitoring what you do online', a welcomed feature as we move into the era of websites tracking your habits. None of these features are ground­breaking however, there are no features which take the protection of your PC to the next level, like file backup or a VPN service would. This is where Avira falls down in the rankings.

Password Manager
Easily manage and keep all your passwords secure in one place.

Firewall
Remote managment of Windows firewall or built-in advanced firewall tools.

Browser Manager
Easily allows users to clear history, cache and tracking cookies from their web browsers.

Tune-Up
Includes tools which will help with the speed and optimization of your computer.

Phone Support
24/7 phone support for billing and technical questions.

Live Chat Support
Customer service includes live chat for a quick respsonse to any issues.
Value For Money
The majority of Avira's customer base are using the free version of the service, a version of the product they pride themselves on. With free products, it's hard to give a value for money description, as there is no monetary cost ­ it's infinitely good value for money! If you are serious about protecting your computer, it is widely recommended for you to get a paid antivirus like Avira Antivirus Pro. Their 'Pro' product costs $44.99 per year for 1 device, which is a relatively good price when you break that down to a monthly cost of just under $4... For a price less than a trip to Starbucks every month you can get quality anti­malware software, online browsing protection and some cool features like 'Game Mode'. At the low price, I'd say Avira antivirus Pro is good value for money.
Support and Customer Service
Support from Avira is stellar. The best thing about their support approach is the ability to hire a tech expert, who you can chat with and run through any issues or queries you have. These experts have a profile so you can know exactly who you are talking to, what they look like and where they are from. Unfortunately, we couldn't find any experts from the United States or Canada, but there are plenty of experts who speak English. You can also chat to experts it German, French, Spanish, Italian, Russian, Japanese, Portuguese, Mandarin and Korean, so it's safe to say the majority of their customer base are covered.